moving...here's something to tide you over until monday.
Intensity
I've had a heavy day today. Lots of thought and frustration. I was asked this afternoon by a friend, "Lanna, what's God doing in your life?" Normally this wouldn't have bothered me. I've been asked many times and have asked this question many times. Today it made me mad. My first reaction was "can't you see what He's doing in my life?" I don't want people to have to ask what He's doing or what He's done. It should be oozing from me. Of course there are some things that cannot be shown physically, but the after-effects should be glowing from tasks that I do. Something has to set us, as Christ Followers, apart from the non-believer, otherwise something is wrong.
Let's take a look at Proverbs 31:10-31:
THE WIFE OF NOBLE CHARACTER
A wife of noble character who can find?
She is worth far more than rubies.
Her husband has full confidence in her and lacks nothing of value.
She brings him good, not harm, all the days of her life.
She selects wool and flax and works with eager hands.
She is like the merchant ships, bringing her food from afar.
She gets up while it is still dark; she provides food for her family and portions for her servant girls.
She considers a field and buys it; out of her earnings she plants a vineyard.
She sets about her work vigoursly; her arms are strong for her tasks.
She sees that her trading is profitable, and her lamp does not go out at night.
In her hand she holds the distaff and grasps the spindle with her fingers.
She opens her arms to the poor and extends her hands to the needy.
When it snows, she has no fear for her household, for all of them are clothed in scarlet.
She makes coverings for her bed; she is clothed in fine linen and purple.
Her husband is respected at the city gate, where he takes his seat among the elders of the land.
She makes linen garments and sells them, and supplies the merchants with sashes.
She is clothed with strength and dignity; she can laugh at the days to come.
She speaks with wisdom, and faithful instruction is on her tongue.
She watches over the affaris of her household and does not eat the bread of idleness.
Her children arise and call her blessed; her husband also, and he praises her.
"Many women do noble things, but you surpass them all."
Charm is deceptive, and beauty is fleeting; but a woman who fears the Lord is to be praised.
Give her the reward she has earned, and let her works bring her praise at the city gate.
ALL of these things reflect what God is doing in her life. A woman of noble character is a woman whose integrity cannot be questioned.
I think I'll stay away from the question, "What's God doing in your life?" Instead, I'll tell you what I see Him doing in your life.
Wednesday, May 26, 2004 | 4:33 PM | LINK |
Maximus the Wonder Cat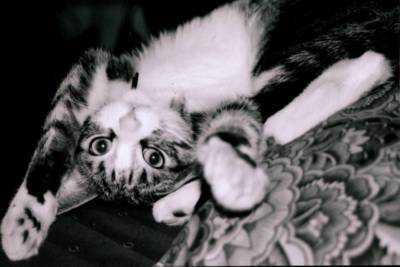 If my cat was a human, then I would want to date him. I know what you're thinking..."Lanna, that is sick on so many levels." I can't help it...he's hot. He would be rock star (note: his fur looks like he's wearing eyeliner and he has a slight mohawk). Yes, I'm weird. I'm proud that I'm weird and I have a hot cat.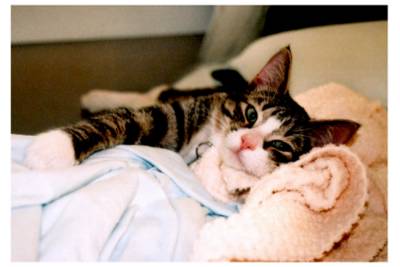 Tuesday, May 25, 2004 | 4:17 PM | LINK |
Apparently I need to write this down...
I'm not sure how to describe last night/this morning. I've just had the strangest 36 hours of my life. Yes, I've been up for 36 hours. I haven't done this since my freshman year of college. Actually, last night felt like college. You see, it all started with a cryptic phone message from Nick declaring that I must find him and Kylie before 3:16am(what?) and bring my camera. We assembled a crew of 6 people and the night panned out to be trying to track down the 7th friend to the point of knocking on all of his windows and screaming his name. I sat in the car. This felt a little too much like being in college, trying to bring down friends before we got arrested. There were many reasons for us to be arrested.
For example:
1. We had six people in Pippin(For those of you who don't know, Pippin is my car. And for those of you who know Pippin, you'll understand this great feat.).
2. I'm not sure that all of us had our seatbelts on all of the time (see #1.)
3. The interior light of the car was on the entire evening, clearly lighting the illegal seating of the people in my car.
4. Technically, we trespassed a few times. BUT, there were no signs stating that we couldn't.
5. I'm sure we might have disturbed the peace a few times.
6. Pippin had the tendency to speed a little as well.
Okay, so maybe these wouldn't have gotten us arrested. But it did feel like it at the time.
We capped the morning with the sunrise by the lake.
Welcome to our first ADVENTURE IN CREATIVITY™. There will be a book and it will be awesome. It will be our "Big Fish" story. Our story of friendship, fellowship, Christ's love, and adventure. I felt like I was in an alternate universe...A sequel to Moulin Rouge if you will.
TRUTH. BEAUTY. LOVE.
Kylie and I have decided that we were separated at birth. Nick has also decided that we are pixies. I'm fine with both.
Now, I'm going to take a nap.
| 1:07 PM | LINK |
Good Friends...Magic Grape Leaves...Could it get better?
We had an impromptu Epiphany Lounge last night. Lee, Nick, Kylie and myself feasted on Nick's Grape Leaves (they were of the magic variety...you'll have to ask him) and potatoes. We were later joined by Heidi. Once again Kylie and I got to relish in our equally bad date stories for the sake of a laugh. I think perhaps we were separated at birth.
Gavin DeGraw serenaded us the entire evening. I'd like to imagine that he was wearing his
"Lanna Pants"
while singing. Of course that's all in my imagination.
Here are some photos that I've taken...feel free to comment. There will be more to come later!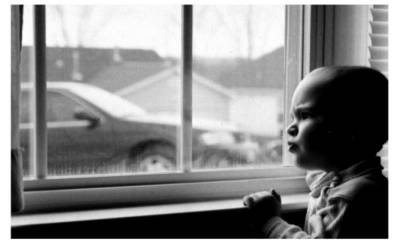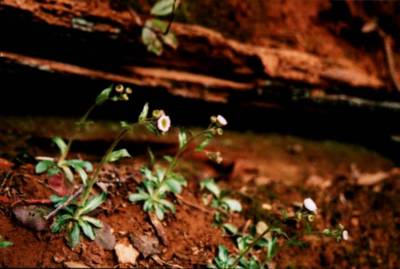 Monday, May 24, 2004 | 1:16 PM | LINK |
Accumulation of Crap
I've been at my parent's house since 10:00AM. I'm cleaning out my childhood bedroom so that I can move back in. I did not realize what a pack rat I was. I've gone through about 10 boxes of stuff today. Notes from middle school, pictures from magazines that I loved, old collages that I made, every art project from elementary school on through highschool, every valentine, receipts, happy meal toys, notebooks from every subject from every year that I was at school, crappy presents that I couldn't bear to part with because I loved the person that gave them to me, souveniers from vacations, magazine upon magazine, etc. There's lots more...mostly crap. I've narrowed the boxes down to 2. The rest is either in the trash or on its way to the Goodwill.
I am attached to memories...sometimes too much so. Every thing I picked up took me back to a certain place. I think I kept everything because I was afraid of losing that memory. I've always had the ability to remember conversations word for word...to see them vividly in my mind. It was weird walking down memory lane today...sifting through what I needed to keep and what to depart with. Most of all I'm thankful for being able to do it...to see what God brought me through...how He called me to Him...and where He has me now. It's a beautiful thing.
Friday, May 21, 2004 | 3:41 PM | LINK |
Slightly OCD
Last night I pulled out all of my pictures from high school until the present. I decided to put them all in order and organize them into a box. Five hours later I was still working on the project. A normal person would have left it to finish until later. Not me. I couldn't stop until it was done. 2:30am I finally make it to my bed, only to have it filled with weird dreams. In the first karl, lee, and I were on our way to wal-mart and blockbuster. For some reason I was driving lee's jeep. The whole time he's freaking out because apparently I scare him with my driving. In the next, I'm going to prom...with someone I don't know. I won a contest to go back to prom. It was weird. But hey, at least all of my pictures are organized. And I got a rockin' album to put all of my photograpy in. I'm thinking that maybe I should post some pictures here. But seeing as I don't have a digital camera...I'll have to scan. And that could take ages.
| 12:31 PM | LINK |
Last night we had an Epiphanynuit at Kylie's. Lots of fun. I absolutely love these people. I've hardly known them for a month and they're already planning me a birthday trip. We've decided to make this summer, ADVENTURES IN CREATIVITY™. Lots of fun stories are sure to come!
I'm off of work early today! I think I might go take some pictures...perhaps of a log wrapped in barb wire.
Thursday, May 20, 2004 | 10:09 AM | LINK |
meat market
So,
"Troy"
should be called "Smut". If I were a man, I would be offended. It's was like looking at a meat rack. I really think the producers decided "Let's put in an outrageous amount of nudity of two hot male actors...just in case the movie stinks. That way we'll still make money." Well, the movie stinks. Bad editing, poor acting, having to cover my eyes from a naked man, and cornball lines all made for a waste of $7. I mean I'm not usually one of those girls who struggles with physical issues, but really Brad Pitt is hot enough as it is without showing off his body. I stared at the curtain and the pretty little star lights that I never knew existed...men I feel for you, I now know how it is to bounce eyes.
One thing that men can learn from a girl that has seen this movie is that we ALL want an Achilles, not a Paris. We want a man's man. We want the opposite of what we are. We want someone who is as strong as we are weak. We want someone who is as masculine as we are feminine. Ever wonder why we always fall for the bad guys? They're oozing with testosterone. We want to feel protected...we want to know that we're worth fighting for. That's stinking sexy.
Monday, May 17, 2004 | 10:37 PM | LINK |
boys, boys, boys...
My mother asks me "Why don't you talk about boys anymore? What's happened?" Why don't I talk about boys? I don't talk about boys because there's no use in it. I don't have one...therefore I don't need to be talking about them. Talking about them makes me want one and to go back to the first statement you'll see that I don't have one. You know that whole pursuit/response thing...I want to keep my role as the responder. So I won't be talking about boys, thank you.
By the by...
yesterday
was awesome. Yay for lots of free-falling action and feeling like a superhero. A few life lessons were learned:
1. Men should never ever wear speedos no matter how young or old or how in shape they are.
2. Americans are out of shape.
3. Some things are worth the wait.
Dinner ensued at
Pappadeaux's
. MMMM...MMM...GOOD. Yay for friends and fun. I'm a very lucky girl.
Sunday, May 16, 2004 | 3:52 PM | LINK |
Chasing Who?
Karl and I watched
Chasing Liberty
last night. It was...okay. It didn't hurt that there was an extremely hot British
guy
as the lead in the romance department. The plot was, of course, very predictable. We knew what was going to happen before it happened, but we're girls and we like this sort of thing. Why? Because we all want a great romance. We all want to be swept off our feet and pursued. Still waiting...
Tomorrow Karl, her sister and brother-in-law, Jon, Chris, and myself will be throwing up our rock fists while enjoying
this
. I can't wait.
Friday, May 14, 2004 | 1:43 PM | LINK |
Tree Hugging
I think that I have discovered the tree hugger in me. Earlier today I was driving around and just looking. Normal fashion of me, I spaced out at a red light. Two birds flew past me. It occured to me how unnatural it seemed. I mean the birds are great, but everything else around them was manmade. Then I got mad because they weren't meant to nest in street lights and in the bullseye of the Target light. They were meant to nest in trees. They've just adjusted to their surroundings. But should they have had to? I could get on a soapbox right now, but I'll save you and me both some time. Of course I'm not going to boycott progress, but I can feel that it's just not right.
Thursday, May 13, 2004 | 4:22 PM | LINK |
Backwoods thought process
Last November, a
friend
and myself were out in the backwoods of Honea Path. We were taking pictures to make a book for our friend Torrie who had recently departed. We found this cute little log on the side of the road. So we thought..."Hey, let's sit on the log and take a picture."
Innocent enough right?
The owner of the land found us and inquired about our intent on his land.
This was the conversation:
Owner: "What ya'll kids doin?"
Us: "Taking pictures."
Owner: "Of What?"
Us: "Each other."
Owner: "Why?"
Us: "Um...we're done. We're on our way. Sorry we intruded."
Next day there was a "No Trespassing" sign.
Last night I was driving by and noticed that there was barb wire wrapped around the log. What the crap! It's a log...you know a big stick. I mean really...obsess much?
What could he be thinking? Perhaps it went something like this...
He's lying in bed...tossing and turning in his sleep. His dreams are filled with two twenty-somethings making money selling prints of his log that is sitting helplessly beside the side of the road. He awakes screaming...

"BOBBY GIT SOME BARB WIRE AND YER GLOVES! WE GOT TO COVER THAT THERE LOG SO AIN'T NOBODY GON MAKE PICTURES OF IT AND MAKE MONEY. I AIN'T GON HAVE NO MORE OF THEM CITY KIDS SITTIN ON MY LOG."
He's only made it more aesthetically pleasing. Now I want to take pictures.
Wednesday, May 12, 2004 | 2:35 PM | LINK |
And off the cliff I go...
Well, I'm joining the others in the quest to entertain people through a blog. Perhaps my life will be interesting enough to keep you coming back for more. For the welfare of all, I will try and be as unpretentious as possible.
Tuesday, May 11, 2004 | 10:57 PM | LINK |
The Beginning
re·splen·dent (adj.) - Splendid or dazzling in appearance; brilliant.
fan·cy (n.) - 1.The mental faculty through which whims, visions, and fantasies are summoned up; imagination, especially of a whimsical or fantastic nature. 2.An image or a fantastic invention created by the mind. 3. A capricious notion; a whim. 4. A capricious liking or inclination. 5. Critical sensibility; taste. 6. Amorous or romantic attachment; love.
Take what you want from it...
Here I go.
| 2:57 PM | LINK |